Here's a summary of Leilani Münter's speech at the United Nations in July 2018:
Humans are the most dangerous animal on Earth. We represent just 0.01% of all living things and yet in our short time here we have already had a catastrophic effect on the natural world: we have destroyed 83% of all wild mammals and 50% of all plants.
Of all mammals on Earth, 60% are now livestock, 36% are humans, and just 4% are wild animals. Farmed poultry makes up 70% of all birds on the planet, with just 30% being wild. How sad is it that most of the birds on Earth are not able to fly. That's what wings are for.
We are adding 1 billion people to our planet every 12 years and for every billion people comes 10 billion farm animals at our current rate of meat consumption. This is not sustainable.
Every single environmental crisis we face: climate change, ocean acidification, habitat loss, pollution, species extinction – all of them are accelerated by our rapidly growing population. We cannot address the others without addressing the core issue of the problem.
Charles Darwin once said "It is not the strongest of the species that survives, nor the most intelligent that survives. It is the one that is most adaptable to change."
Humans must show evolutionary adaptation by reducing population growth and meat consumption, as well as replacing the fossil fuel economy with a renewable energy economy. Otherwise, we are up shit creek without a paddle.
About Leilani: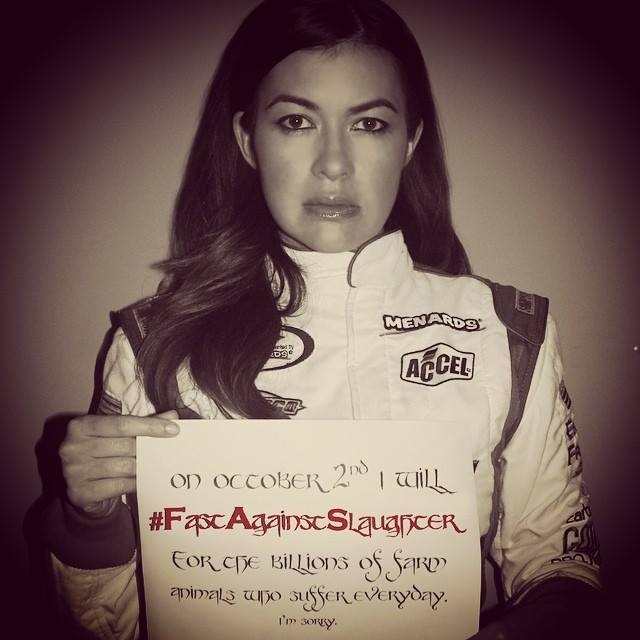 Leilani Münter is a biology graduate turned professional race car driver and environmental activist. Discovery's Planet Green named Leilani the #1 Eco Athlete in the world. She is a recipient of ELLE Magazine's 2012 Genius Award and Sports Illustrated named her one of the top ten female race car drivers in the world. Leilani races in the ARCA Series, a development league of NASCAR. She is the fourth woman in history to race in the Indy Pro Series, the development league of IndyCar. She has 9 top fives and 19 top ten finishes in 50 starts. Since 2007, Leilani has been adopting an acre of rainforest for every race she runs. She uses her race car to spread environmental awareness among 75 million race fans in the US. Leilani sits on the Board of Advisors of The Solutions Project, a non-profit organization dedicated to accelerating the transition to 100% renewable energy. Leilani, an almost lifelong vegetarian, has been vegan since 2011. Off track, Leilani drives a 100% electric Tesla Model S and with the solar panels on her house, she is driving on the power of sunshine. Her motto: Never underestimate a vegetarian hippie chick with a race car. You can find out more about Leilani on her official website http://carbonfreegirl.com.
Here are some of Leilani's awards:
ELLE Magazine's 2012 Genius Award.
Discovery's Planet Green #1 Eco Athlete in the World.
Sports Illustrated Top Ten Female Drivers in the World.
Glamour Magazine Eco Hero.
Highest Finish For Female Stock Car Driver at Texas Motor Speedway (4th in 2006)
First woman to qualify in the 45 year history of the Bettenhausen Classic at Illiana Speedway in Indiana.
One of three women to qualify for ARCA race at Daytona on speed in 2010, alongside Danica Patrick.