Breaking News: Tragedy In Botswana; Close To 90 Elephants Found Slaughtered With Tusks Removed Near Wildlife Sanctuary, The Second Largest Elephant Poaching In Africa's History
A tragic news came from Botswana where nearly 90 elephants were brutally murdered for their tusks near a famous wildlife sanctuary, called Okavango Delta wildlife sanctuary.
According to the charity, Elephants Without Borders, as well as the BBC, the murder comes right after the country's anti-poaching unit had been disarmed by the new President Mokgweetsi Masisi.
The anti-poaching units have focused mostly on the border regions, which historically were a poaching hotspot. Poachers mostly enter Botswana to take advantage of the large elephant population in Botswana. Botswana has the largest population of elephants in Africa and most of the tourists come to visit Botswana for this and only this reason. Poaching and farming are driving elephants to the brink of extinction in the wild and without elephants, tourists are gone for sure.
According to Elephants Without Borders, the scale of the slaughter is the largest they have ever found in Africa.
This is a global tragedy on an unbelievable scale: Eighty-seven elephants have been discovered murdered with their tusks removed so far. This is in addition to the five white rhinos that have been murdered following the presidency of Masisi in Botswana.
The population of savanna elephant has diminished by more than 30 percent between 2007 and 2014. This equals a loss of more than 144,000 elephants!!
The current rate of decline is 8 percent per year, mostly due to poaching. The rate of decline has been accelerated from 2007 to 2014.
"I'm shocked, I'm completely astounded. The scale of elephant poaching is by far the largest I've seen or read about anywhere in Africa to date," said Dr. Mike Chase from Elephants Without Borders.
We must all work together to end the slaughter and help Elephants Without Borders save the remaining elephants in Botswana before it's too late.
About Elephants Without Borders:
Elephants Without Borders is a tax-exempt 501(c)3 public charity dedicated to conserving wildlife and natural resources; through innovative research, education, and information sharing with all people, they strive to encourage mankind to live in harmony with wildlife and the natural world.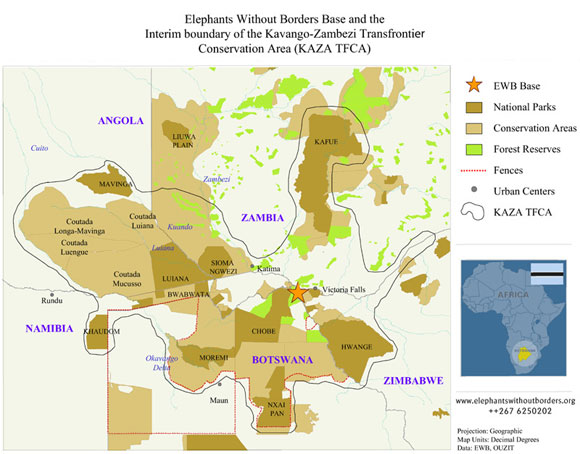 Elephants Without Borders use state-of-the-art technology, to monitor the movements, status, and behavior of wildlife, addressing complex issues regarding wildlife ecology through research studies and sharing the results with local communities and decision makers. Sharing this information allows EWB to work towards securing key habitats and migratory corridors for wildlife, especially the elephants, to flourish.
Make sure to donate to Elephants Without Borders here.